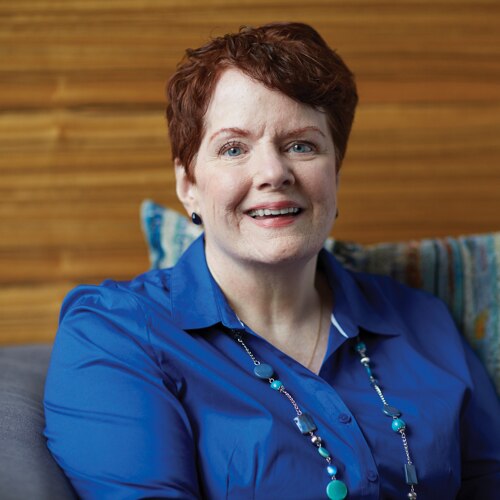 This patient testimonial relates an account of an individual's response to the treatment. The account is genuine, typical and documented. However, the individual's response does not provide any indication, guide, warranty or guarantee as to the response other persons may have to the treatment. The response other persons have to the treatment could be different. Responses to the treatment discussed can and do vary and are specific to the individual patient. Please consult your healthcare professional for a full list of benefits, indications, precautions, clinical results, and other important medical information that pertains to the therapy or products discussed.
One morning in 2004, Patsy woke up to a terrible headache. A professional in the public relations field, she was on vacation that day. Later in the afternoon, she got up from the couch and collapsed on the floor. When she realized she couldn't control her left arm or leg, a friend called the emergency services.
Patsy ended up at a stroke center where it was determined that she had a massive stroke due to a blood clot. Surgery to remove the clot resulted in the removal of one-third of the right frontal lobe of her brain. Blood tests revealed a blood clotting disorder.
Severe side effects set in
After her stroke, Patsy, had nine weeks of inpatient rehabilitation therapy, including physical therapy, occupational therapy and speech therapy. "The therapy was good in a practical way, but I was stuck in the hospital and I went into a depression," Patsy recalls. "I couldn't understand how this was God's will for me."
Six months of outpatient physical therapy followed. Patsy's brother moved in with her so she could stay in her home. "I had horrible clonus – shaking and tremors – in my left foot, and my left arm curled up across my chest," Patsy recalls. Botulinum toxin injections provided only temporary relief, and oral baclofen left her feeling extremely fatigued. "I didn't want to get out of the chair or do anything," she says. "It was so painful that I could hardly walk."
As Patsy's ability to walk deteriorated, it threatened her ability to return to living alone. After a particularly bad fall, her physical therapist recommended ITB therapySM to Patsy and her physical medicine and rehabilitation doctor. Patsy shared the information with her nine siblings – her support network – who she refers to as "the committee." Everyone agreed that she should try it.
Patsy had a one-day screening test to see if long-term therapy with ITB therapySM would be effective. "It was immediate," she says. "My left arm dropped down to my waist, and when I walked, I took a normal heel-to-toe stride. That gave me so much hope!"
Six weeks later, Patsy had the pump placed. "Afterward, I could walk and it didn't hurt, and I didn't have any clonus. It was like something out of dream."
A few months later, Patsy noticed clonus returning. "I couldn't move my leg – it was like lead – and my arm was curling again. I felt horrible itching." At the hospital, her doctor discovered that the catheter had malfunctioned, sending Patsy into baclofen withdrawal. The catheter was replaced and Patsy's symptoms went away.
While this was Patsy's only complication, some people do experience surgical complications, side effects of the drug, or both. There are risks associated with treatment with a baclofen pump. To learn more about side effects, please see below.
Six years later, Patsy had her pump replaced (the average life of a pump is seven years). Every three months, she goes to the doctor to have the pump refilled with baclofen.
*
Information contained herein does not replace the recommendations of your healthcare professional. See the device manual for detailed information regarding the instructions for use, the implant procedure, indications, contraindications, warnings, precautions, and potential adverse events. For further information, contact your local Medtronic representative and/or consult the Medtronic website at www.medtronic.com